Welcome To Pine Knoll Farm
Pine Knoll Farm is a world class training center and school of integrated horsemanship like no other in America that is located in Lexington, KY which is the undisputed Horse Capital of the World. It is a premiere facility for advancing knowledge in horse and human interactions, wellness & personal transformation. We are located just 10 miles from The Kentucky Horse Park and international competition venue which hosted The World Equestrian Games and four miles from the Historic Town of Midway. The horses that mingle in the countryside, the organic charm and elegance, the world class programs, the caring staff & spending quality time with family, soon to be friends or with yourself to rest, relax and rejuvenate is what makes Pine Knoll Farm a Special Place to Remember.
With all the Trainers, Clinics, Offers, Tack, Classes, Medicines, Tricks and Cures that are out there for the Equestrian these days, it is easy to get confused and overwhelmed! At least, this is true for me. Of course, we all want to be the best Riders we can be and we all want nothing but the best for our equine Partner! The best, can very often turn out to be, very expensive, and sometime less then second best! So for two years, I went on a search for a good Trainer. And at my age, ( I am 45), I not only look for knowledge and know how, but personality, character, life experience, compassion, drive ( not over drive) etc. I look at the whole person! I came across some wonderful Trainer, sweet, knowledgeable…..but something was always missing, until I met Cathy Fox, Assistant Trainer to the wonderful Tom Poulin, at Pine Knoll Farm! There it was. A match made in heaven! I know she cares about each and every horse and rider combination she has in front of her. I know me and my Horse will get the best she has to give, for the hour that we will spent in that arena. But, not being able to take my Trainer home with me, I have to spend a lot of time, riding on my own, and by myself. And even though, I am not a beginner rider any more, the more I ride by myself, the more little "habits", start creeping their way into your seat. I was a firm believer, that only riding can teach you how to ride! I will not spend my hard earned money on "nonsense"! Well…. Yesterday, I returned from my "second home" Pine Knoll Farm, and a KDA sponsored clinic I attended there, with Cathy and Karin Glassman. I had my lesson with Cathy and now it was time for Karen to introduce me to "Harmony". "Well, let's see where this is going!", I thought to myself, as I, not very gracefully, wrangled my way up onto Harmony's back. Right away, "Harmony" was high in the front and low in the back, and I remember making a comment about her "uphill" built. Little did I know that, me sitting to far back in the saddle, was the reason for Harmony's position. And after some corrections and centering, Harmony leveled right out! ( Aha Moment # 1) Now I'm intrigued! After watching you ride, Karin says to me, I noticed, that you sit a bit more to the left, and we have to get you more to the right. After a couple of exercises and some rebalancing, I find myself sitting, what seems to me, way too far over to the right. "Now, you are centered!" "No way!", I say "Oh way!" is the crowed behind me cheering! And Harmony agrees! She is steady and level. ( Aha Moment # 2) And the Aha Moments kept on coming! Karin gave me neat little visuals, to make it easier to remind myself, and self check my position. Another wonderful tool, to take home with me and help me with my daily rides and with my daily quest, of becoming the best Horsewoman I can be. There is however one critic! And this one is to me! Why didn't I do this sooner! But a mistake is only a mistake, if you do not learn from it! And I intend to make this a regular part of my Training from now on. I am very excited about this opportunity, and just had to share this with my fellow Horse enthusiasts! I hope to run into some of you at Pine Knoll, until then Happy Trails!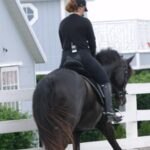 "I recently attended the Pine Knoll Institute for Integrated Horsemanship because I had heard of their unique program and I wanted to learn more about the impact and perspective Pine Knoll could give me and my equine companion a greater and deeper connection. The experience after coming back home and riding my Friesian in Dressage was perceptibly improved. Impressively, and logically after they explained it, riding doesn't start at the time one gets up on the mounting block. It starts with body discipline exercises both mentally and physically. I then had a unique experience to move on site to a mount called Harmony TheSchoolMaster. This mechanism was so close to the real thing (as I learned coming back home to ride my own horse) that my ride was smoother, better balanced and harmonious. Having the opportunity to have professionals scrutinize every detail of my riding balance and aid use gave me a real perspective of what I wasn't doing to help my balanced riding. I came from the exercise with muscle soreness and recalled muscle memory which showed me where I was not taking advantage of correct form. My riding and my equine partner connection is stronger. I intend to go back for more of the same care and attention from the staff at Pine Knoll Institute for Integrated Horsemanship next month, and I live on the border of New Jersey and Pennsylvania. I went in with an open mind, and had my expectations exceeded. Thanks to all of the professionals who take this integrated approach so seriously. It is real."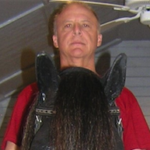 What Would It Take To Be Living Your Best Life?
What would it take to be living your best life? This was the question I pondered as I looked at the invitation to attend the E3A workshop at Pine Knoll Farm in Lexington, Kentucky. My first thought was, "Well, I think I am living my best life". My next thought, was "Well, if I am living my best life why not put my best foot forward and step into the opportunity to attend this workshop?" It sounds like fun! I phoned Gillian Vallis who was hosting the workshop with an eager desire to reserve a space. The first requirement after reserving my space was to complete a bit of homework which included the purchase of the Strengths Finder 2.0 book. I was also instructed to complete the online assessment which provided feedback on my top five strengths. The feedback was enlightening. I arrived at the workshop a few days later and encountered an even greater enlightenment. The facilitators of the workshop were gracious and implemented an exceptional job of facilitating. One of the best parts of the workshop was the opportunity to accept the unfolding awareness of collaborative team-building and receiving feedback from the very special equine facilitators. One of my favorite quotes which is written in "My Favorite Quote" Journal is, "Horses never lie"[i]. This quote was the harmony of the musical chords which created a symphony of learning throughout the workshop. The equine facilitators did their job of living their best life and offered the special bonus of assisting the human participants with a new awareness of how to live their best lives as well.
Life Changing Programs
What differentiates us from others is our mission to create Breakthroughs to Remember!  Our HorsEmpowerment Equine Assisted Learning (EAL) program utilizes the unique nature and behavior of the horse to reconnect you with what really matters. Just as a mirror is a reflection of our exterior self, the horse is an honest reflection of our interior self.  Working in collaboration with the horse creates opportunities for self-discovery, team building, emotional, social and somatic intelligence, non-predatory leadership, problem solving, working through fear, life skills, socio-sensual awareness, "present-moment" living, clear boundaries & improved communication skills. The present moment feed back from our co-facilitator" the horse" creates opportunity for personal growth & transformation … to be more mindful; to move with body, mind and spirit; to be more conscious, powerful & balanced. Together we can make it better!
Indoor Riding Arena
Outdoor Riding Arena
Round Pen
The Synchronicity Healing Center
Vegetable Gardens & Greenhouse
Join Our Equibase Today!
Subscribe to Our Newsletter